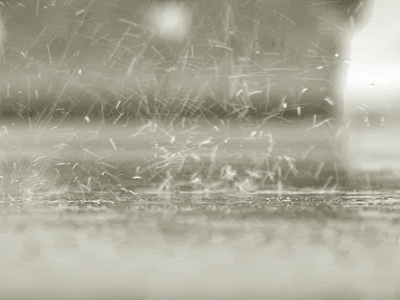 I had high hopes for this day. The rain was meant to taper off early in the afternoon. I met a friend and her 3-year-old daughter (Bella) at the rendezvous point. We arrived at our destination as the press did. We got our assignment with our zone highlighted on the map. And most importantly, we got our package. A bag full of seed-n-sand and seed bombs.

Maneuvering an umbrella, the bag of seeds, and my camera was pretty much out of the question in the cold April rain. Thus, I have very few pictures for evidence. But I have a feeling tomorrow's news will bring a few that I can "borrow."

We headed out, spreading seeds in sidewalk cracks, untended tree beds, and abandoned yards or lots. A couple of blocks away from the rendezvous I consulted the map. We were heading in the wrong direction. Retracing our steps toward our designated zone, we ran into a reporter from the New York Times. Since at this point, around 11:25 am, we were the only people around on the mission, the press stayed on us. Little Bella and her mom were interviewed by News 12 Brooklyn, and I by the Times.


We were all soaking wet at this point, our hands raw from the seed mix and the inside of the rough canvas bag. The little one was getting restless. We made it a half a block into our intended zone and Bella reached the breaking point. I can't say I was too upset, the cold rain had tired me out, too. This, after only 1 hour of seeding the streets of Bedford-Stuyvesant Brooklyn.


Needless to say, I'm a bit disappointed that we didn't luck out with the weather, and that I gave up so early. But April showers bring May flowers. I hope today's shower brings the wildflowers we sowed today.
I also hope that other volunteers had more stamina than we did. There were about 200 confirmed for the event, assigned to 4 different zones in the neighborhood of Bed-Stuy. I'd like to return in a month or two to see what today's effort brings.
View
Planting Zones
in a larger map
I am optimistic.
With my bag of seeds, I'm going to try again -- this time in my neighborhood -- to cover some abandoned spots and construction lots. Every place could use a little more green.
Who wants to join me?
Related post
beautify bed-stuy, tomorrow!